The majority of the vintage flooring and paneling from Antique Woods & Colonial Restorations is reclaimed from structures that are 100-200 years old.
These woods feature deep, beautiful colors and a rich patina that can only be bestowed by time.
Recycling building materials is not only an environmentally sound concept, it is also practical. "Older woods provide a tighter grain, meaning harder wood," says president Dale Lehmer. "Our beautiful honey colored white pine, also known as pumpkin pine, is much heavier and harder than the new, paler white pine that is available today."
During the past three decades, we have managed the dismantling of over 1000 barns, dozens of which have been rebuilt into barns, barn home conversions, or post-and-beam additions to existing houses. Each structure is marked, photographed, videotaped and a scale drawing is created before dismantling begins.
We have developed a large network of other folks in the dismantling business, particularly in Canada, and we now currently import many of our barn frames and lumbers already professionally dismantled. We then bring these frames to our shop to do any repairs, cleaning and final tune up before shipping to it's new owner. We find the barn frames in Canada to generally be superior than most American frames due to the very large sized timbers they tended to use more regularly there. Perhaps they had more large timber stands or perhaps they built barns stronger due to snow loads, but generally speaking, the frames from Canada are better suited for rebuilding, particularly for barn -home conversions. If you are going to go to the expense and work of building a barn-home conversion, you might as well do it with a spectacular barn frame.
During the dismantling process, the roof, siding, rafters, and flooring are removed by hand to be reused.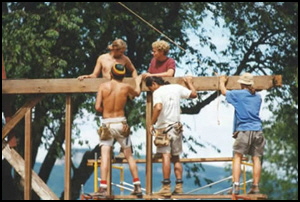 To prevent breaking or damaging the fine joinery, the wooden pins that hold the mortise and tennon joinery together are driven out or drilled. A crane is brought in at this point to remove small sections of the barn frame and lay them on the ground for final dismantling. Today, Antique Woods specializes in locating spectacular historic structures and then working with clients on a step by step basis in the design and management of these projects. We also have crews to come to your site to help reconstruct the frames.